This festival organized by volunteers in the picturesque town of Ystad was back in full force this year with an excellent varied program. The festival won two Swedish Culture Awards last year – perfect recognition of the hard work that went into putting on this 'casual' and very social festival.
Subtle adjustments have been made since the last sold-out festival in 2019 – organizers have listened to audience feedback and have therefore allowed more time between concerts with a very slight reduction in the number of shows each day – also ending the festival on Saturday evening and not Sunday as before.
Artistic director Jan Lundgren has a soft spot for vocal jazz. Out of 25 concerts, there were nine with female singers. Stacey Kent (above) opened the festival – its show had to be brought forward to midday from its original 8pm slot due to flight cancellations, but the pretty Ystad Theater was still packed. Kent's very first career began with a tour of Scandinavia and here playing with the Trio Claes Crona and her husband Jim Tomlinson, she returned to her early songs and remembered those early days and the kindness of everyone she met.
Kent's 8 p.m. slot was filled at short notice by the Swedish singer Ellen Anderson who is an excellent singer – her version of "Honeysuckle Rose" was haunting.
The next day, the French singer Cyrille Aimee (now living in New Orleans) performed in theater with David Torkanowsky on the piano and Matteo Bortone on bass. At first listen, Aimée seems like a light singer, playing on her youthful allure and her almost feminine voice, but that's misleading. Aimée is a very accomplished singer with great technique and delivery. Her rendition of the opening song 'Petite Fleur' ​​was a tribute to Stacey Kent whom Aimée cites as a big influence on her and her version of Stevie Wonder's 'How Deep is the Ocean' and 'Lately' were quite brilliant. She finished with 'La Vie en Rose' a perfect vehicle for her fine but remarkable voice.
Artistic director Lundgren played two shows at the festival. The first with the guitarist Ulf Wakenius was a tribute to Duke Ellington (a big influence on Lundgren) and Oscar Peterson (who Wakenius played with for almost 11 years). The second gig was a celebration of the drummer Ronnie Gardiner who turned 90 this year. Gardiner was born in the United States and early in his career played with Dizzy Gilespie, Benny Carter, Gerry Mulligan and Dexter Gordon.
Moving to Sweden at the age of 30 (on the advice of Clark Terry), he made his life and career in Scandinavia, notably by developing the "Ronnie Gardiner Method (RGM)", a concept of training and used to help people with brain injuries and strokes.
The concert included a selection of tracks chosen by Gardiner and featured Hannah Svensson singing. Highlights were a great rendition of Benny Carter's 'Only Trust Your Heart' and a terrific version of 'Caravan' with Gardiner showing that at 90 he's still a master drummer.
The only male singer we saw came to a concert 20 km from Ystad in the small hamlet of Löderup. The party hall was packed for a performance of Frank Zappa's seminal jazz/rock album, 'Hot Rats'. Guitarist Chico Lindval and trumpeter Anders Bergcrantz have reworked this seminal material for guitar and trumpet rather than guitar and violin as on the original. I'm a huge Zappa fan and it was pretty obvious within minutes that the whole band was too. It was a brilliant rendition of the album; everything was instantly recognizable but subtly different – Lindvall is a great guitarist totally into the Zappa groove and Bergcrantz's trumpet brought a whole new dimension to the track. Svante Loden on vocals, Beefheart's vocals were at their peak – deliciously snarling "Willie the Pimp" vocals – just brilliant!
Swiss harmonica player Gregoire Maret presented his project "Americana" at the festival – playing with Romain Collins at the piano and the grand Marvin Sewell on the guitar. Sewell toured extensively with Charles Lloyd and impressed me then – here with more "casual" music to play, he was equally impressive. The music is very cinematic and melancholic – with three main instruments on stage, the tunes ebbed and flowed effortlessly between the three musicians. With almost no change of pace during the show, it was quite fascinating, Maret is pretty much the best harmonica player around – he knows that "less is more" and his playing is exquisite. The show featured songs from the Americana album, "Witcheta Lineman", "Great Ocean Road", "Once Upon a Time in America" ​​and Bill Frisell's "Small Town".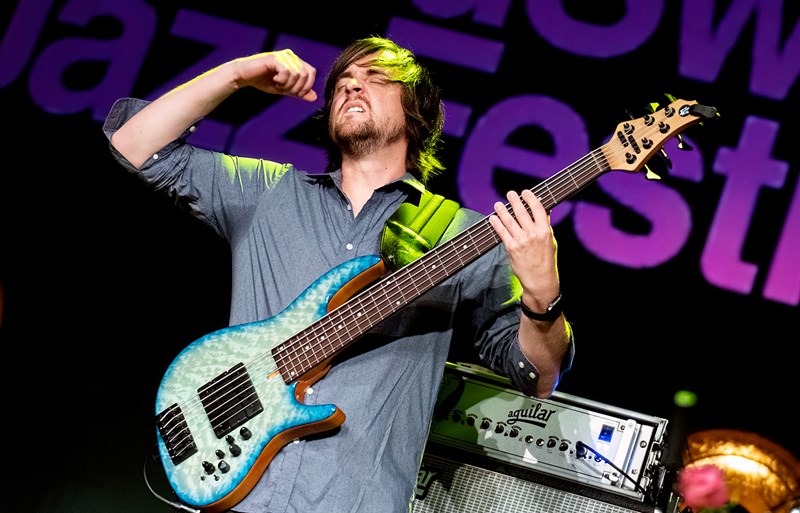 The last show of the festival featured yellow jackets and was a fitting end to what had been a grand four-day festival. The Yellowjackets were founded by guitarist Robben Ford and keyboardist Russell Ferrante in 1977 – Ferrante is still playing in the band. The band's West Coast fusion music has changed little over the years, but still sounds fresh and dynamic when played live. Bob Mintzer he's a cool saxophonist (32 years ago) but an australian bassist Dan Alderson (above) stole the show – his fast solos, chords and fills were brilliant – he gets such a sweet tone from his Oceana six-string bass.
Ystad Sweden Jazz Festival is a friendly and relaxed occasion with a wide selection of jazz styles ranging from mainstream to almost avant-garde. Artistic director Jan Lundgren knows his audience and gives them what they want, all with a few surprises. This year ticket sales reached 90% of capacity for all concerts – a fantastic feat for a festival run entirely by volunteers. They are also organizing a winter piano festival this year for the weekend of December 28/29.
Ystad is a lovely place with lots of history and great beaches nearby. Sweden may not be the cheapest destination in Europe, but it is certainly one of the friendliest.